Enjoy the best user interface of any CMS/DAM system on the market built on the latest HTML5 technology.
The system allows your organization to assign certain tasks to dedicated employees and split competences according to your organizational structure or individual needs.
The systems user interface comes in 36 different languages.
A brief overview of the essential parts of the user interface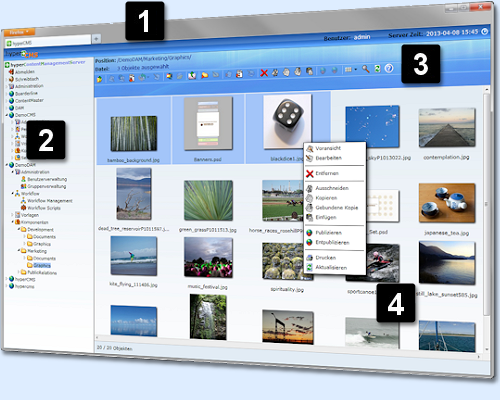 As Browser Internet Explorer 8+, Firefox 3+, Chrome 18+, Safari 5+ as well as Opera 9.5+ can be used. hyperCMS is 100% browser based no additional client software is required.
The hyperCMS Navigator provides access to all functions and is always visible. Depending on the permissions assigned to a user by his group membership, one can access certain functions.
The hyperCMS Workspace Control offers a tool bar to apply actions to objects.
The hyperCMS Workspace provides additional information and actions regarding the chosen element(s). It acts as an object navigator and shows object in list or thumbnail view, similar to a file manager.
After choosing an object in the workspace it can be opened and edited in hyperCMS EasyEdit which is a WYSIWYG-Interface (What You See Is What You Get). By one click the same content can also be edited in a form.